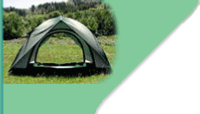 The Apache/ATuffy 4-Man ALX and 5-Man ALX Tents come with 11mm OD 7001 T6 aircraft quality tubing, instead of 9.5mm OD tubing. This adds significantly to the already highly praised ruggedness and durability of the original Apache ALX Tents. Other improvements are plastic hooks attached to the bungee loops at bottom corners of the Rain Fly for much quicker and easier attachment. The 4-Man ALX Tent floor size is almost 7 ft x 9 ft with an inside center height of 6 ft 1 inch and the floor size for the 5-Man ALX Tent is almost 9ft 8in square, with an inside center height of 6 ft 6 inches.
Never before have such high quality tents been available having such ease of set up, such light weight and such a small carry size compared to the space inside the tent. These tents are designed especially for no nonsense people who want compactness, speed of set up, convenient usage and maximum space and utility, including Recreational Facilities and Commercial Outfitters.
The "BP' models, of Apache/ATuffy Instant Camping Tents, are light in weight but large enough for two persons with extra head space for a small pack. This tent is also ideal for motorcycle campers who travel light.
With two light weight Vestibules there is ample storage space for Back Packs and other essentials. The weight of the tent without Vestibules is about 7.5 lbs. Each Vestibule with pegs weighs about 10 oz.


The "ALX" models of Apache/ATuffy Instant Camping Tents, have an extra heavy oxford nylon floor and extra large heavy duty YKK zippers,
in addition to the heavy duty Rip Stop Nylon fabric. The ALX models are usually selected by car campers, Boy Scouts, and motorcycle campers who want the smallest package possible, the best quality possible, the greatest comfort possible, a fast set up time and a minimum amount of effort required for setting up camp.


Also, the 3-Man ALX model is ideal for Commercial Outfitters and Guides, River Rafting Companies and Rental Programs because of its rugged construction, light weight, easy maintenance, and fast set-up time.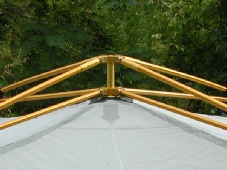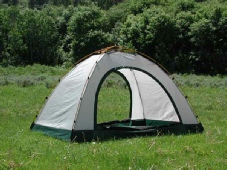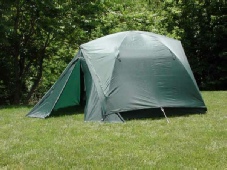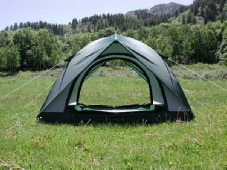 The PATENTED UMBRELLA STRUCTURE of the Apache/ATuffy Instant Camping Tent is simple in design and incredibly strong. All parts in the mechanism are top quality hand crafted anodized aluminum, and the leg sections (poles) are 7001-T6 aircraft quality aluminum.
The TENT DESIGN is airy and open and easy to access. There is a hidden pocket in every corner. Two large entrances, each with its own screen and door panel, allow complete control of privacy and ventilation, and make it much easier to share the tent with others without getting stepped on. The inner tent can be put up in 15 seconds or less, and the Rain Fly can be added in less than 60 seconds. No Rain Fly is needed on a clear night.
ADDING THE VESTIBULE takes about 60 seconds and increases the "shelter" area of the tent 20-25%. A Vestibule on each side converts your 3-season Apache Instant Camping Tent to a 4-season Apache Instant Camping Tent.
Apache Instant Camping Tents are SIMPLE AND FUNCTIONAL. There are no fancy shapes. Years of experience have proven the most efficient space to live or sleep in is either a rectangle or a square. Also, the functional Apache Tent design allows for extra inside head room without any loss of structural stability. Guy Line Gussets grip the poles, under the Rain Fly, and guy lines provide outstanding wind protection.
<a href="http://www.apachetents.com.webstatsdomain.org/" target="_blank"><img src="http://webstatsdomain.org/widget/informer/apachetents.com/1.png" alt="Apachetents.com statistics" title="Apachetents.com statistics" style="border:none;"/></a>