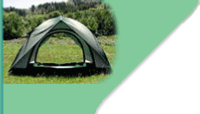 SPECIALS
$50 OFF 4-MAN SALE ENDS SOON
After 25 Years designing custom outfitter tents, canvas camping tents and
authentic Native American lodges, Frank Reese, an outdoorsman and avid
family camper, and Devin Samuelson decided to design a camping tent that would be light-weight, strong, simple, quick and easy to put up, compact to carry, comfortable to use, and of the highest quality.
The result is: Apache/ATuffy Instant Camping Tents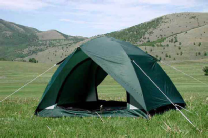 1 The unique "Umbrella-Tent" design makes it fast and easy to put up the Apache/ATuffy Instant Camping Tent in 15 to 30 seconds. Attaching the Rain Fly and Vestibule takes about 45 to 60 seconds each. The Vestibule is sold separately as an accessory.
2 Bungee connected pole sections in the umbrella tent mechanism are aircraft quality 7001-T6 anodized aluminum.
3 Poles are part of the tent, fold up with fabric, and are impossible to lose. This makes it possible to put up your camping tent in total darkness.
4 There are two full doors on every tent: one on each side of the tent, with fine mesh no-see-um screens to stop small insects, and to make camping more comfortable.
5 Door flaps and screens adjust to any position for convenience, privacy, and ventilation. They are fast and easy to adjust from inside or outside of the tent.
6 Only top quality nylon fabrics are used in Apache/Atuffy Instant Camping Tents, and the end panels of the inner tent, protected by the rain fly, are breathable to avoid condensation.
7 Star light panels of no-see-um screen in top of inner tent add to air circulation and give a beautiful view of the night sky when the rain fly is not needed.
8 Heavy polyurethane coating is applied to front panels, rain fly, floor, and lower walls to block out water and make camping more secure.
9 Extra large Rain Fly ridge pole extends out over each door for maximum protection. This allows tent door flaps to be open for ventilation while it is raining on the outside. Also campers can duck in and out of the open door, and no rain will fall into the inner tent.
10 Tent carry bag, rain fly bag, guy lines, pegs, and instructions are furnished with each tent. The instructions are sewn inside the top seam of the tent carry bag.
11 There are no plastic mechanical parts in an Apache/Atuffy Instant Tent. Unlike other tents, all working parts of Apache/Atuffy tents are fabricated from high quality, anodized aluminum.
12 All models, of the Apache/Atuffy Instant Camping Tent, come with Aircraft Quality, Gold Anodized Aluminum Tubing, and Hand-Crafted, Gold Anodized Mechanical Parts in their famous, Patented, Umbrella Tent Frame. These unique, space-age tent frames are incredibly tough and durable but, unlike most tents on the market today, each independent component part of the Apache/ATuffy tent frame can be quickly and easily replaced in the event of accidental damage.
13 All 2-Man "BP" Apache/ATuffy Instant Camping Tent models feature light weight Rip Stop Nylon fabric throughout for maximum strength and durability. The BP models are usually selected by backpackers, car campers, Boy Scouts, and motorcycle campers who want the smallest package possible, the best quality possible, the greatest comfort possible, a fast set up time and a minimum amount of effort required for setting up camp.
14 The "ALX" models, of the Apache/ATuffy Instant Camping Tent, have an extra heavy oxford nylon floor and extra large heavy duty YKK zippers, in addition to the heavy duty Rip Stop Nylon fabric. The ALX model is ideal for Avid Campers, River Rafting Companies, Commercial Outfitters, Outdoor Camping Guides, and Rental Programs because of its rugged construction, light weight, easy maintenance, and fast setup time. More and more Motorcycle Campers are now switching to the ALX Model 3-Man and 4-Man Tents because of compact size, light weight and generous inside space.
15 No other camping tent has all the features of the Apache/ATuffy Instant Camping Tent. Its patented umbrella mechanism makes it fast and easy to set up, comfortable to use for almost any kind of camping, strong and durable, easy to maintain, easy to access, easy to keep clean, light and easy to carry, and always ready to go camping at a moments notice. Choose an Apache/Atuffy Instant Camping Tent today and take the work out of camping!


<a href="http://www.apachetents.com.webstatsdomain.org/" target="_blank"><img src="http://webstatsdomain.org/widget/informer/apachetents.com/1.png" alt="Apachetents.com statistics" title="Apachetents.com statistics" style="border:none;"/></a>